This website is not updated anymore, please log on to this website (Knowledge Centre Manoeuvring in Shallow and Confined Water) for the latest news.
Measured Values
Video
The video (should start automatically) shows the LNG carrier passing Bank II (surface piercing). Floating buoys show the free surface on the bank.
Click here for view from aside of an LNG carrier passing Bank II.
Click here for a top view of the container carrier passing bank IVbis and here for another viewpoint.
An overview of all measured data is given:
Hull
Longitudinal Force X
Transversal Force Y (sway force)
Sinkage z
Roll Moment K
Trim θ
Yaw Moment N
Rudder
Rudder Lift
Rudder Drag
Rudder Torque
Propeller
Propeller Thrust
Propeller Torque
Water
Three wave gauges register the free surface
Example
An example of post processed output. In this case the sway force for a certain ship, bank, UKC, propeller rate and drift angle.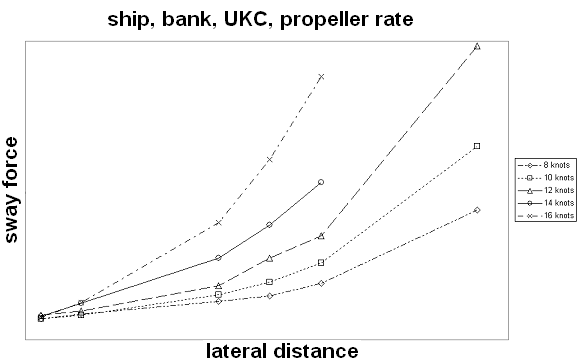 top